SUV: The Ultimate Family Vehicle
Purchasing a car is usually a big investment for any family, so it's important that you make the right decision to suit your needs.
Of course, certain car designs are simply no use for the average family. The likes of an Audi TT, for example, may look sleek and stylish, but for a family of four, it's just not practical.
So, what are the must-haves for the ultimate family vehicle? Let us talk you through what makes the SUV your perfect choice.
Space
Having enough space is essential for families hitting the road. While there are many varieties of SUV, from crossovers, such as the Nissan Pathfinder, to larger off-roaders, such as the Toyota Landcruiser, they all offer more space than your average vehicle. Predominantly, boot space is key for families. This could be to fit equipment such as prams in, or extra storage space for your weekly shop.
For some SUVs, you can expect a huge 660-litre boot which will accommodate the bulk of baggage needed for a family. This is almost double the space provided by small cars which are said to have the biggest boots. For example, the Volkswagen Polo holds 355 litres, and the Audi A1 holds 335 litres. Even compact SUVs offer a significantly higher storage space, with the likes of Honda's HR-V boasting 437 litres of space — or 1462 litres if the seats are folded down.
Seats
Folding the seats down is something which most five-seater cars are able to do to fit in bulky stock. However, an SUV's flexible interior can also add to the already impressive storage space. Their adaptable interiors allow you to quickly change from hauling passengers to moving bulky cargo without jeopardising comfort. The Kia Sorrento is a prime example of SUVs being perfectly flexible. With seven seats — two of which are foldable — the model gives you the option to increase boot space or leg room by making it into a typical five-seater. It's three-row system means that space is utilised in several ways for families.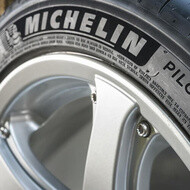 Tyres
Of course, if you're buying an SUV to accommodate the family, you'll need reliable tyres all year round. Michelin's CrossClimate SUV tyres are suitable for all weather conditions to provide safety orientated performance 360 days a year.
The bigger the car, the bigger the tyre. CrossClimate SUV come in 34 different sizes and you can use the Michelin tyre Selector below this article to find the best fit for your SUV.
The average SUV tyre can come in three types:
 Highway Terrain: This tyre is generally designed for 90% use on road, with 10% off-road usage.
All Terrain: It's generally designed as a 60% road and 40% off-road tyre. It's a relatively strong tyre with aggressive tread patterns and rounded shoulders.
Mud Terrain: As you'd expect, this tyre is best suited for the special forces vehicles thanks to it being used generally 85% of the time off road.
The most popular is the 'Highway Terrain' — or on-road tyres — that are perfect for the SUVs being used for family usage. While these may look very similar to your average tyre, they will have a tread pattern that is suited to occasional off-road use and a larger tread depth to allow for more control.
Safety features
Due to their higher positioning on the road, SUVs are seen to be a safer option to drive. Their bigger structure and size also make them safer than a small car as there is more 'protection' for passengers. This comes in the form of heavier vehicles being more likely to push back a smaller vehicle in the event of a collision, according to the Insurance Institute for Highway Safety.
Also, a larger vehicle, such as an SUV, has a longer hood which means they have a bigger crush zone that gives them an 'advantage' in frontal crashes. Large SUVs are involved in approximately 13 fatalities per million registered vehicles, while mini cars have a death rate of 64 deaths per million registered vehicles.
There are two categories to consider when it comes to SUV safety:
Active: features which help the driver avoid an accident.
Passive: features which protect occupants in the event of an accident.
Active safety features include anti-lock brakes, anti-skid systems, and four-wheel independent suspension. Passive safety features include vehicle body structure, airbags and seatbelt pre-tensioners.
The Volkswagen T-Cross received What Car?'s top spot for safety when challenged on aspects regarding adult and child occupant protection, pedestrian protection, and safety assist.
Overall, the SUV market has continued to increase in recent years — 2018 saw the number of SUV registered in Europe increase by 19%, taking them to a market share of 34.6%. A major factor in this was their popularity amongst families for the reasons outlined above.
Sources: https://www.whatcar.com/news/the-safest-SUVs/n19477, https://auto.howstuffworks.com/car-driving-safety/safety-regulatory-devices/cg-suv-safety2.html, https://www.edmunds.com/car-safety/are-smaller-cars-as-safe-as-large-cars.html, https://cars.usnews.com/cars-trucks/suvs-with-the-most-cargo-space, https://www.youmotorcycle.com/what-is-the-difference-between-a-4x4-tyre-and-a-regular-tyre.html, https://www.am-online.com/news/market-insight/2019/01/30/uk-registrations-contrast-europe-s-2018-car-sales-performance
Find the perfect tyre for your SUV...
A Guide to Winter Driving
Picking the correct equipment can help you avoid major issue for drivers this winter.
Discover SUVs
We've pieced together a handy guide on everything you need to know about SUV tyres.